Our beautiful and functional Restaurant Outdoor Patio fencing allows you to fully enjoy your outdoor space without sacrificing safety or style. Our professional design team creates fences that perfectly match your building's architecture and we use only the highest quality materials for a fence that will last for years to come.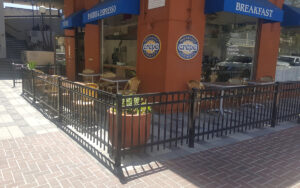 We install ornamental iron fences and gates for restaurants, bars, hotels, hospitals and other commercial properties.
Keep unwanted critters out of your outdoor dining area with quality fencing from Interstate Fence Co. We install ornamental iron fences, fences for restaurants, and security fences.
This fence is perfect for restaurants with outdoor patios. With ornamental iron, elegant arches, and a black powder coat finish, this fence will complement any restaurant's decorating style. Your new fence can help create a more inviting exterior for your restaurant. Let us help you turn your outdoor dining area into an attractive extension of your restaurant, while keeping out trespassers and reducing the risk of accidents.
There are many fence choices for your restaurant, drive-in or outdoor patio; but there are few that can provide the safety and protection you need for outdoor dining. If a fence is what you need, Interstate Fence Co. has you covered with ornamental iron fence installation and modern fencing design.
A fence from Interstate will provide a perimeter that will keep your patrons, employee's and property safe. Whether you are looking for ornamental iron fencing for security and privacy, ornamental aluminum fencing for durability, chain link fencing for durability and value, or vinyl fencing to keep the pets in place without sacrificing beauty we have the right product to complete your business.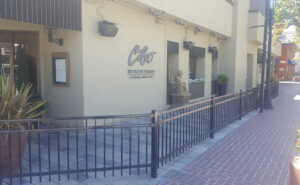 We are experienced ornamental iron craftsmen specializing in all aspects of ornamental fence design and manufacture, installation, repair and maintenance. Our professional craftsmen will work with you to provide the best service for your project. We have many varieties of fencing designs to choose from including custom designs, to meet your individual needs.
Restaurant Outdoor Patio fencing is the perfect way to add value to your restaurant, bar or café. It can be used as a decorative feature, but most importantly it can be used to protect patrons and staff alike from potential accidents caused by people walking through the front door or getting too close to moving cars.