Commercial Fencing Services
Interstate Fence Company Inc. provides our customers with a full range of high-quality security commercial fencing services. Furthermore we can design a fence system to meet your requirements, including fences made of chain link or woven wire mesh and welded wire partitions. If you are looking for something a bit more secure, such as fencing for trash enclosures, airports, prisons, private property or for homeland security, we can provide barbwire and razor ribbon and both exterior and interior expanded metal security fencing. Are you into sports? We can build the fencing for your tennis court or batting cage and backstop. Did your vehicle gate, manual or automatic, break down? We can build you a new one, or provide emergency 24-hour repairs. For that added artistic touch, we can make ornamental iron or welded wire fences.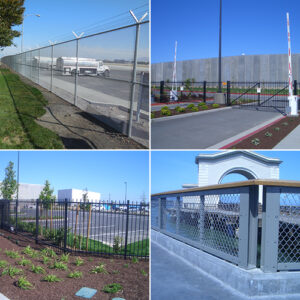 Some of our commercial fencing services include:
• Chain Link – Exterior and Interior
• Ornamental Iron
• Automatic Gates
• Wire Mesh and Welded Wire Partitions
• Wind Screen
• Barbed Wire and Razor Ribbon
• Bollards
• Interior Security Fencing
• Slide/Swing Gates and Hardware
• Tennis Courts
• Batting Cages and Backstops
• Storage & Trash Area Covers
• Emergency 24-Hour Repair
• Storage & Trash Area Covers
• Green Screen Fence
• Slatted CL Fence
• High Security
• Vehicle Barrier Arms
• Laser Cut Custom Fence
• Chain Link Enclosure Covers
• Lever Locked Card Readers
• Parking Garage Security Fencing
• Restaurant Outdoor Patio Fencing
• and more
Commercial Fencing Services in the Bay Area for over 30 year!
Fencing Repairs
We make emergency repairs and offer installation and repair of security fencing, slatted fencing, interior fencing, razor ribbon, gates, vinyl-coated fences, ornamental iron fences and more…