Fairfield Chain Link Fencing and Bollards, Interstate Fence Co.
Fairfield, are you in need of fences or gates? Interstate Fence Co. is here to serve. Chain link, woven wire mesh, welded wire partitions and more are available, and we'll help you pick out the right fence or gate.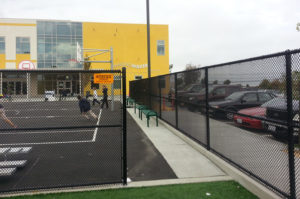 Chain link, a very popular type, is more durable than wood fencing and requires little to no maintenance, and comes galvanized or in your choice of colored weather-proof coating. It's a great money-saving option over wrought-iron.
Need something that's easier on the eyes? Try wire mesh. Still not attractive enough? We'll help you install ornamental wrought-iron fencing and gates.
If you value security over aesthetics, we have barbwire and razor ribbon, with both exterior and interior expanded metal security fencing available.
Need a gate for your fencing? No problem! We'll install gates to your specifications.
Do you have a sports area that is need of some security? We'll do fencing for areas such as tennis courts, batting cages and backstops. We even provide 24-hour emergency repairs, so call us if your vehicle gate, manual or automatic, breaks down, and we'll fix it or make you a new one.
Would you rather keep vehicles out but let pedestrians move easily through your paths?
We'll install bollards for you. Look no further than Interstate Fence Co. for all your Fairfield commercial fencing needs.