Daly City Chain Link Fencing, Interstate Fence Co.
Does your business need a fence or gate installed? Call Interstate Fence Co. today, and we'll make sure all of your needs are taken care of!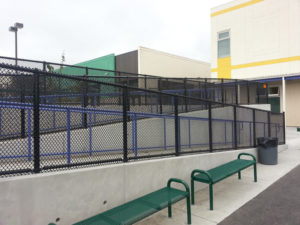 We will help you find the right fence for the job, from chain link or woven wire mesh to welded wire partitions. Need something inexpensive but secure for your Daly City business? More durable than wood fencing, chain link requires little or no maintenance and is less expensive than wrought iron. A more visually-attractive option is wire mesh.
If you are more interested in something pleasing to the eye, we can fabricate ornamental wrought iron fencing.
For the ultimate in secure fencing, we have barbwire and razor ribbon, with both exterior and interior expanded metal security fencing available.
For sports areas, we can make the fencing for such areas as tennis courts, batting cages and backstops.
Did your vehicle gate, either manual or automatic, break down in the middle of the night? We do 24-hour emergency repairs! Or, if you prefer, we'll make a new one for you.
Pesky vehicles on your pedestrian walkway? Our variety of bollards will do the trick.
Daly City, Interstate Fence Co. is here to serve all your fencing needs.