Benicia Commercial Chain Link Fencing, Interstate Fence Co.
Is your Benicia business in need of high-quality security fencing systems? Look no further than Interstate Fence Company! We can design a fence system to meet your requirements, including fences made of chain link or woven wire mesh, as well as welded wire partitions.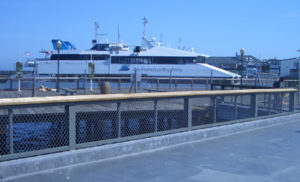 Chain link is cheaper than wrought iron, and more durable than standard wood fencing, and requires little or no maintenance. Wire mesh is a more visually attractive option, and ornamental wrought-iron is the most aesthetically-pleasing fence available.
Looking for something even more secure, such as for trash enclosures, airports, or for homeland security? We can provide barbwire and razor ribbon and both exterior and interior expanded metal security fencing. We can build the fencing for your tennis court or batting cage and backstop.
Did your vehicle gate, manual or automatic, break down? We can repair it or make a new one for you! Need to restrict vehicle traffic while allowing pedestrian traffic to pass? We can install bollards to your specifications.
Interstate Fence Co. is your one-stop shop for gates and fences of all kinds in Benicia!