Atherton Commercial Chain Link Fencing –
Interstate Fence Company
For over 25 years, Interstate Fence Company has been offering quality Atherton fencing to local businesses and recreational parks. When it comes to protecting what you value the possibilities are boundless. Whatever the type of commercial fence you need, Interstate Fence Company Inc. has it.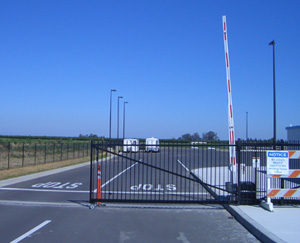 As a leader in the fencing industry, Interstate Fence Company works hard to create the perfect fence for our customers of Atherton. We use only the highest quality materials for fence construction. From chain link or woven wire mesh to welded wire partitions, we offer an array of styles and colors.
If you are budget-conscious, but still in need of a secure and sturdy fence, Interstate Fence Company Inc., recommends cyclone fencing. We specialize in chain link fencing for our Atherton customers! Of all the types of fencing, cyclone fencing is a practical style since it is durable and inexpensive. The make up chain links in the construction of a cyclone fence is stronger than your standard wood fencing and requires little or no maintenance all. Needing a visually more attractive fence material than chain link, then why not try wire mesh. And for your more artistic taste to fencing, Interstate Fence Company has ornate wrought-iron fencing.
Need secure fencing for your Atherton recreational park or business? Interstate Fence Company recommends barbwire, razor ribbon, both exterior and interior expanded metal security fencing. Whether it's residential or commercial, we build secure fencing for Atherton tennis courts, batting cages, backstops, airports and trash enclosures.
Mishaps in Atherton happens all the time. At Interstate Fence Company, we know sudden mishaps can unfortunately happen at any time. We provide Atherton emergency 24-hour repairs if your automatic or manual vehicle gate has stopped working. We'll even build you a new one. Interstate Fence Company is here to serve your fencing needs.
If you need to secure a pedestrian walkway and restrict vehicles from entering, we can install bollards to your specifications and needs. The safety of our Atherton pedestrians is important, so that's why we at Interstate Fence Company can design a custom solution to meet your every need.
Let us be your first and only choice in gates and fences of all kinds in Atherton. Our dependable commercial fencing staff is always here to serve you.